Can I order prints from my iPhone?
How to turn your iPhone photos into real prints
It's a problem of today most of us face: All our photos collect on our phones and at some point, there are so many that we can't be bothered to sort them. Rarely, we delete unwanted photos or transfer them to our computers. Even if we do, those photos rarely ever make it to real prints or otherwise leave their digital existence.
Furthermore, we've grown accustomed to having almost everything available at our fingertips and not have to use our computers at all. Many consider it a matter of course to be able to do pretty much everything form their mobile devices. So the question we are determined to answer in this post is: "Can I order prints from my iPhone?"
Can I order prints from my iPhone?
The quick and easy answer is "Yes, you can order prints from your iPhone". As with many things nowadays, it's very easy to do from wherever you are. The more complex question to help you answer this first one is "How can I order prints from my iPhone". We could stop here, having answered your question, but that wouldn't relly healp you, would it? To order prints from your iPhone, you have a wide variety of options at your disposal. These options are photo apps that let you use not only the pictures from your phone but also your social media and online sotrage spaces.
In the following, we'll go into a little more details about the photo apps available to you. We also have an article here about the best five photo book apps in the UK. While our focus there really was on their capabilities in creating good photo books, you can also order prints with them. So here, let's look at some apps for ordering prints from your iPhone.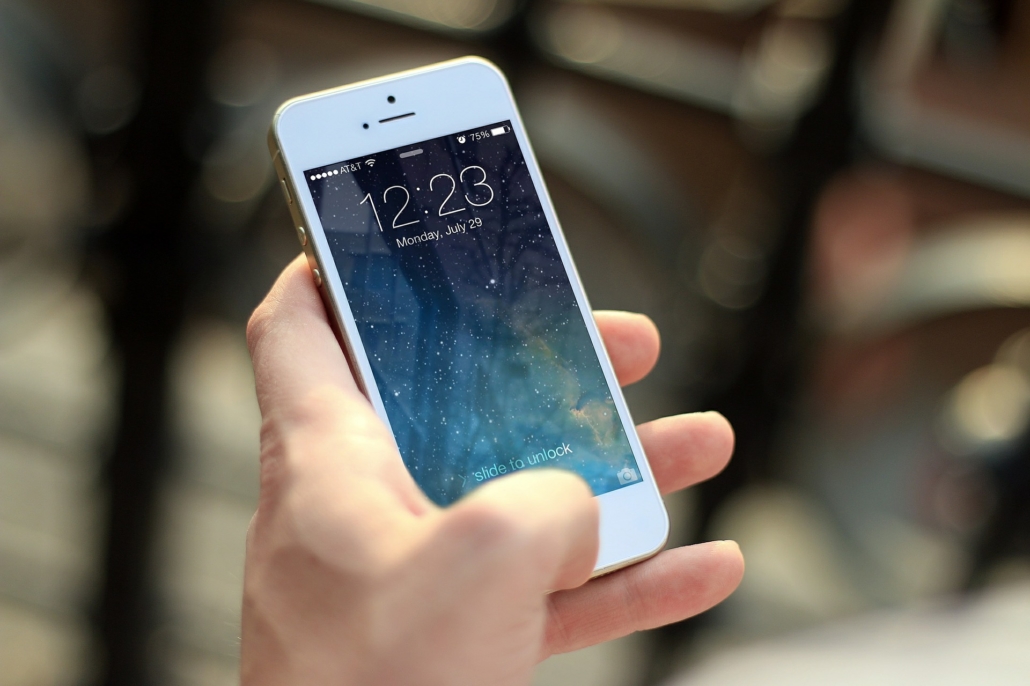 Snapfish app
The Snapfish app lets you order prints for £0.10. Depending on the size and format you choose, the price may go up. Here's a little table to help you along:
| | |
| --- | --- |
| Format | Price / Print |
| 15×10 cm | £0.10 |
| 13×10 cm | £0.10 |
| 10×10 cm | £0.12 |
| 18×13 cm | £0.21 |
| 20×15 cm | £0.49 |
| 25×20 cm | £1.25 |
| 30×20 cm | £1.69 |
According to customer reviews, Snapfish fares very well and the app convinces with an easy-to-use interface and a quck and easy checkout process. You can access photos from your iPhone, Instagram and online storage spaces like Google Photos. Delivery is £1.49 for Standard delivery and £5.99 for Tracked delivery.
FreePrints app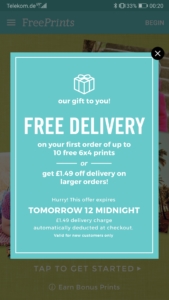 FreePrints appeals to its customers with literally free photo prints on a monthly basis. You can order up to 500 prints for free every year, only paying for delivery. That's 45 prints every month (in 6×4 format and limited to one photo per print – so no collages for free). Delivery starts at £1.49 and never exceeds £3.99. So you get a pretty good deal out of the app.
The app is very easy to use and lets you tap into your social media (Facebook, Instagram, Flickr) and online storage (Google Photos, Dropbox, Drive, OneDrive, Amazon) for accessing your photos for printing. So really all you need to do is pick your photos and enter your address plus payment info and you're done.
Customer reviews go from excellent to bad, the overall quality impression is quite positive, though. Considering the price per print (around £0.6 if you choose the 45 free prints), it's definitely worth a try to make your own impression.
Truprint app
With this app, you can choose between four different photo prints:
| | |
| --- | --- |
| Format | Price / Print |
| 10×10 cm | £0.20 |
| 13×10 cm | £0.05 |
| 15×10 cm | £0.05 |
| 18×13 cm | £0.20 |
| 25×20 cm | £1.20 |
There's Instagram, Facebook, Google Photos, and your phone's gallery to choose your photos from. Adding £2.99 for Standard or £7.25 for Tracked delivery, this app is comparatively high-priced. The quality is considered very good, though, which makes the price worth consideration. The app is very easy to use as well and there are many other photo products you can choose from beside prints.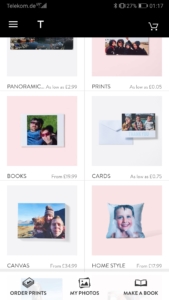 Portable printers
Although the question "Can I order prints from my iPhone" doesn't really refer to them, we though we might throw in this alternative. Portable printers are becoming more and more popular. You basically have a device you can print your photos with right away. There are some great options out there. Of course, you pay a certain price for it, but there's no more waiting around for a delivery guy to ring the bell. You can have your prints done and dusted within seconds after taking the picture.
Kodak Mini 2 Instant Photo Printer – £89.99: This wireless device prints 2.1 x 3.4 Inch photos via a Bluetooth connection. Of course, you will need cartridges for printing your photos which come in increments of 20, 30, or 50 sheets. The result is quite satisfactory overall.
Canon Selphy CP1300 –

£

 

119

.99: This "luxury" option is less portable but more professional in its printing style. You can choose different formats, from postcard-size to "mini" (22 x 17.3 mm). At around £8.50, the cartridges (managing around 36 postcard-size prints) are affordable as well.
Prynt Pocket – from

£99.00: This funny device attaches right to your iPhone and prints your photos straight away. It imitates the Polaroid cameras of way back when, just that you can choose the photo you want printed before it actually starts. The magical thing about Prynt Pocket is that you don't need any cartridges as the ink-infused thermal paper does all the "printing" for you.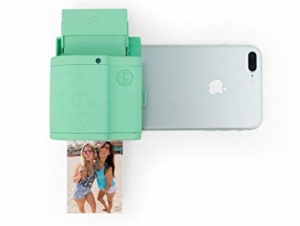 These are just some examples. There are many more portable printers out there that we couldn't possibly list here. It's always worth having a look around to find the right product for your needs. Have a look at some reviews as well to get a good overall impression of the options available to you.
Conclusion
The above are some examples of popular prints apps. We hope this has helped you answer the question "Can I order prints from my iPhone". Of course, there are lots and lots of other apps and services available and considering all those apps are all free to download, you can try some out to find the best for you. The options with free prints and only delivery costs are of course inviting. A fun alternative is a portable printer that saves you the long wait for delivery, of course. We hope to have helped you with this post and look forward to hearing your stories!
https://www.photobookdeals.co.uk/wp-content/uploads/mobile-phone-1875813_1920.jpg
1280
1920
Anna Brinkkoetter
https://www.photobookdeals.co.uk/wp-content/uploads/photobook-deals-logo-long-1030x180.png
Anna Brinkkoetter
2021-11-12 08:00:58
2022-03-28 08:58:53
Can I order prints from my iPhone?