5 best photo book apps in the UK
An insight into the UK's five best photo book apps in the UK
In this article, we'd like to help you get an overview of the five best photo book apps in the UK, for Android and iOS.
Every day, about 1.05 billion photos are taken. That's about 12 pictures per second. Even though modern SLR cameras and compact cameras are becoming more affordable and easy to use, fewer and fewer people choose to opt for a proper camera for taking those photos.
With smartphone cameras becoming consistently more sophisticated, many don't feel the need for a camera.
Not to mention the fact that they want to have their shots available for editing, sharing, and otherwise processing them right away.
No more need for transferring them to a PC or other storage device. This also shows in sales for regular cameras going down 40%.
Although Facebook, Instagram, and other social media platforms are popular places for sharing those special memories, for many, a traditional, real-life photo book is still the preferred way of reliving them at home or turning them into a wonderful gift for family and friends.
Also here, the smartphone offers the comfort of a one-stop shop. There are countless photo books apps out there that let you use your smartphone gallery, social media, as well as online storage spaces to create and order photo books comfortably from your sofa or on the go.
To help you find the perfect app for your photo book, we've compiled a list of the best photo book apps in the UK.
1. FreePrints app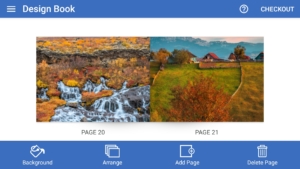 Many would react to "a free photo book each month" with a healthy amount of suspicion, but with FreePrints Photobooks, you have a prime deal on your hands.
Read also: Frreprints photobooks app review
Yes, you pay delivery costs (£5,99) and you don't have much choice regarding the type of photo book you get for free (7×5), but the result is good quality.
The app itself is very easy to use and offers a nice range of design features, including different background themes for every taste.
Over 1 million downloads and an impressive rating of 4.9 (July 19) give you a good impression of what to expect.
Almost all negative feedback revolves around a rather slow delivery time and that although the photo book is, in fact, free, delivery is charged.
In sum, if you don't need your photo book urgently, FreePrints Photobooks is a great service for a good-quality photo book that is – almost – completely free of charge. A great deal and thus one of the best photo book apps in the UK!
To Google Play           To the Play Store
2. LALALAB app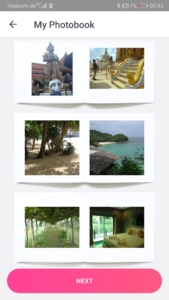 Lalalab app in the UK is very popular with over 1 million downloads and its 4.7-star rating really speaks for itself.
The best thing about this app is definitely its incredibly user-friendly interface. LALALAB makes creating photo books fun and hassle-free.
As with most apps and services out there, customers are most critical when it comes to delivery times, but the overall opinion is extremely positive and fair prices as well as good quality really do make up for waiting a couple of days for the fruits of your labour.
Read also: Lalalab app review
LALALAB is definitely worth a try and while you're there, have a look at the great other photo products they have to offer (photo magnets, for example). All this and more makes LALALAB one of the best photo book apps in the UK!
To Google Play           To the Play Store
3. Snapfish app
Also boasting over 1 million downloads, this app offers many photo products beside photo books. Customers love the huge amount of layouts Snapfish offers.
While this may sound trivial, layouts are the key to success if you want a photo book that is actually, truly your very own. As with most photo book apps, delivery isn't Snapfish's strong suit, but it certainly isn't its weak point.
Read also: Snapfish photobook app review
Customers are happy with the quality of their orders and the support and service Snapfish offers. Lots of deals and special offers are your key to trying out this app for your next photo book project!
To Google Play           To the Play Store
4. CEWE Photoworld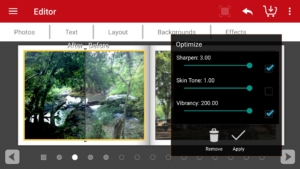 CEWE writes quality with a capital letter Q. Customers love their photo books and although the app has some kinks that could be improved, over 1 million downloads and a 4.3 star rating prove that the pros outweigh the cons by far.
As long as you know what you want and spend some time on the creation of your photo book, you will be over the moon with the result.
Read also: Cewe photoworld app review
The CEWE app guides you through every step of the process with an intuitive user interface and has a great range of photo editing options to offer. With this top UK photo book app, you can create a truly individualised photo book for yourself or as a gift!
To Google Play           To the Play Store
5. Photobox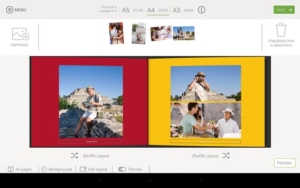 While all other apps are available on both Android and iOS, Photobox currently only has an app available for iPhone and iPad. While this is a real shame for Android users, iOS users are in for a treat.
Creating a photo book with this app is easy and fun thanks to an intuitive user interface that lets you personalise every page to your heart's content.
Import your photos from your device, social media, or cloud storage spaces and resize them to highlight the best part of each picture.
In terms of value for money, the app – or rather the product – places very well in the market and their satisfaction guarantee really is reflected by their customers' opinions. Although a 4.6 star rating should place Photobox higher in our top 5, being iOS exclusive is a real shame. Still, it's one of the best photo book apps in the UK.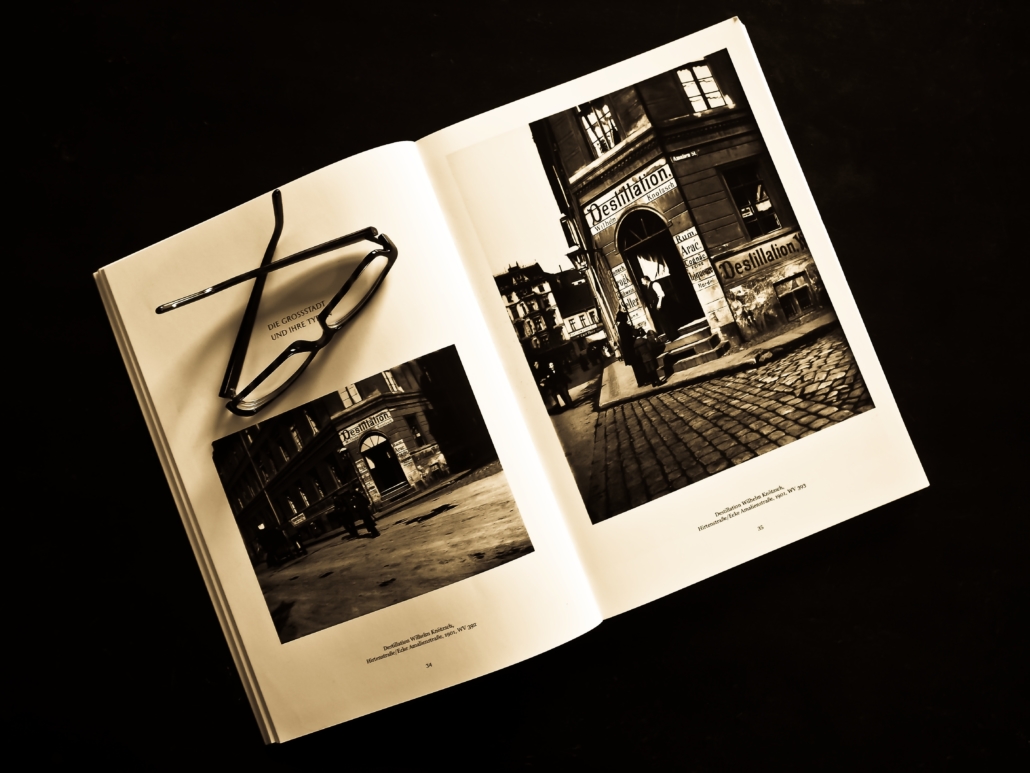 There you have it – the five best photo book apps in the UK. Of course, there are plenty more apps out there, all with great and unique products and services.
The choice is all yours. Make the most of it and find the very best app for your photo book needs by trying them out! Enjoy!
https://www.photobookdeals.co.uk/wp-content/uploads/photobook-held-by-woman-with-pictures-of-a-city.jpg
1253
1880
Anna Brinkkoetter
https://www.photobookdeals.co.uk/wp-content/uploads/photobook-deals-logo-long-1030x180.png
Anna Brinkkoetter
2021-09-01 08:00:46
2022-03-28 08:59:22
5 best photo book apps in the UK