If you are wondering what is the maximum number of pages in a Shutterfly photo book, then please keep reading on and learn more about Shutterfly.
Shutterfly is a US American company with a wide variety of brands and products. Among these products you will find photo products and of course photo books.
Even though the website displays Shutterfly's products exclusively in US Dollars, you can order Shutterfly photo books from and to the UK.
As a matter of fact, Shutterfly ships to over 100 countries around the globe. Given the distance and processing and printing times, orders may take up to 12 business days to be delivered, though.
Now that we've covered the basics, we'd like to have a look at a question many people have about Shutterfly's photo book service: What is the maximum number of pages in a Shutterfly photo book?

Different types of photo books
Just like all other photo book services, Shutterfly offers different types and sizes of photo books.
When you visit the website, you can consider two main approaches: Start by picking the type of photo book you'd like (family, travel, baby, etc.) or start by picking the size of photo book you'd like (8×8, 8×11, 10×10, or 12×12 inches).
As a matter of fact, you can even have Shutterfly design your photo book for you and lean back without having to work your way through the drag and drop process.
To add to the above, there is also a premium photo book service with added features such as lay-flat pages. This premium service can be applied to all photo book sizes and formats Shutterfly has to offer.
Book design
Once you have chosen a photo book in terms of size and style, you can start designing.
There are some great design templates for various themes available to get you started but you have full freedom in terms of design once you get started.
The moment you arrive in the design software, you will also be able to add extra pages to your book. The best way forward is typically to start designing your book and importing the photos you would like to use.
Once you know how many pictures you're using and how you will spread them over the pages – for example as full-page pictures or collages of up to 30 photos per page – you will know whether or not you actually need additional pages. At this point, you can look at adding pages.
This is done by clicking on the Add pages button on the top left.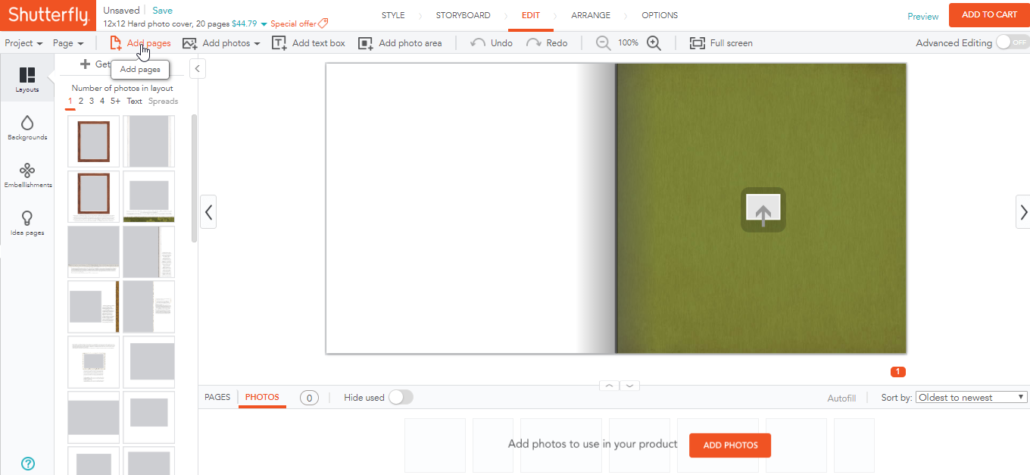 Adding pages
Regardless of the type and size of photo book you've chosen, you start out with 20 pages.
From this starting point, you can add up to 91 pages to each of the available books.
That brings the total to 111 photo book pages. Keep in mind, though, that 111 pages is a whole lot and may be too much for a regular photo book.
Many a time, you'll want to add as many photos as possible, but you may be able to get your message across much more efficiently when you choose photos wisely and go for quality instead of quantity.
Of course, adding pages also adds to the total price of your photo book. This is not a specific thing to Shutterfly but rather something every photo book company does.
The price for each additional page varies depending on the format you chose in the beginning.
What is the maximum number of pages in a Shutterfly photo book?
If you really want to go for it, you can design a Shutterfly photo book with up to 111 pages. Even though this is a possibility, you should keep in mind that more is not automatically better.
Due to the many design options available at Shutterfly, you don't have to use full-page photos exclusively, which may also be a way to limit the number of pages and keep things neat and nice to look at.
We hope this article has helped you get an overview as well as answer your question "What is the maximum number of pages in a Shutterfly photo book".
If you'd prefer some alternatives for UK photo books, have a look at our special offer page and discover top deals for various photo books!
https://www.photobookdeals.co.uk/wp-content/uploads/Shutterfly-photo-book.jpg
1013
1013
Anna Brinkkoetter
https://www.photobookdeals.co.uk/wp-content/uploads/photobook-deals-logo-long-1030x180.png
Anna Brinkkoetter
2020-05-25 08:00:54
2021-01-01 18:26:33
Shutterfly photo book: What is the maximum number of pages?