CEWE Desktop Software Review
When it comes to creating beautiful and high-quality photo books, CEWE naturally comes to mind as one of the very first choices. On multiple occasions, we've looked at their photo books, apps, and deals. Today, we're going to have a look at their brand new desktop software which offers lots of new features and products. Here is our CEWE Desktop Software Review.
Why download?
Obviously, you can easily create photo books and other photo products with CEWE online as well as from your smartphone. So why would you download software to your computer? From a general standpoint, the product range is identical to what you can do online. The thing about photo books in particular is that they tend to be projects you put a lot of love into. That means time. And in that time you want to be as comfortable and secure as possible. That's where the main advantage of the desktop software presents itself. You don't need an Internet connection or worry about connectivity or loss of data – ever. You can safely create your photo book and photo product projects over long periods of time and, once you're finished, simply order your works of art through the software. Only at this point will you need an Internet connection. Plus, while you're working, you won't have to wait for your photos to upload and process.
The installation is quick and only installs what you need: CEWE Photoworld.
New Features & Products
Product selection
With a wide selection such as CEWE's, choosing a product can become quite overwhelming. That's why CEWE has obviously put a lot of effort into creating a clear layout for their product selection. Whether it's photo books, prints, calendars, or any of the many other product types they offer, a simply tile layout makes it easy to find just what you're looking for.
The product descriptions are factual and clear – you don't have to search for the information you need. Once you've chosen the size, format, and binding of your photo book, you know exactly what you will get and can also very easily navigate back to any previous page.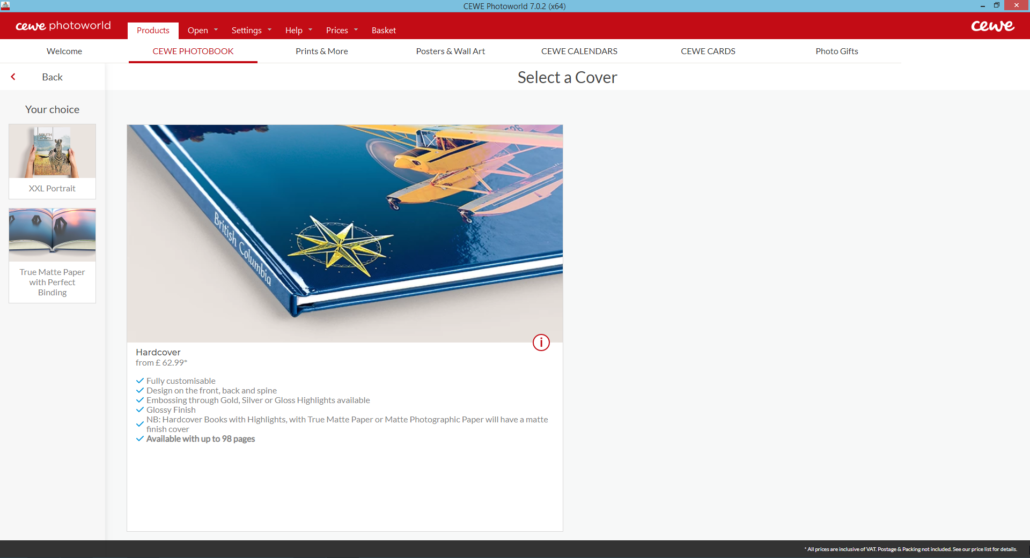 There are small differences between the product selection for photo books and, for example, calendars. While photo books are selected using an intuitive and simple click-through process, we noticed that for calendars, a pop-up screen is offered to make a selection. Subjectively, we feel like it would have been more intuitive to adapt the same method as with photo books, but overall, this doesn't impact the ease of use significantly.
New products
It's always fantastic to see new photo products become available. Whether it's photo books or other product types, it's just great to be inspired. We had a look at the new products for you:
Highlighted faux Leather & Linen cover for photo books
For all seasoned photo book creators out there, photo covers are probably the most popular choice. But CEWE has found a way to turn Faux Leather and Linen Covers into real highlights. Basically, they've made it possible to personalise these covers with highlights such as text and cliparts in gold, silver and rose gold, which really give your cover a new level of elegance. Particularly for wedding photo books, we feel like this is a fantastic option.
You can add multiple highlights in one of the three colour options to the cover simply by dragging and dropping them onto it in the editor.
Calendars: A3 with gold-highlighted packaging and surprise-Advent calendars
It's the small things in life that turn a regular photo calendar into a special gift. While the product itself is still the same high-quality A3 wall calendar, CEWE has added the option of a uniquely beautiful gift wrap. It combines the practical aspect of a robust packaging with golden highlights and a small window where you can add a personal message.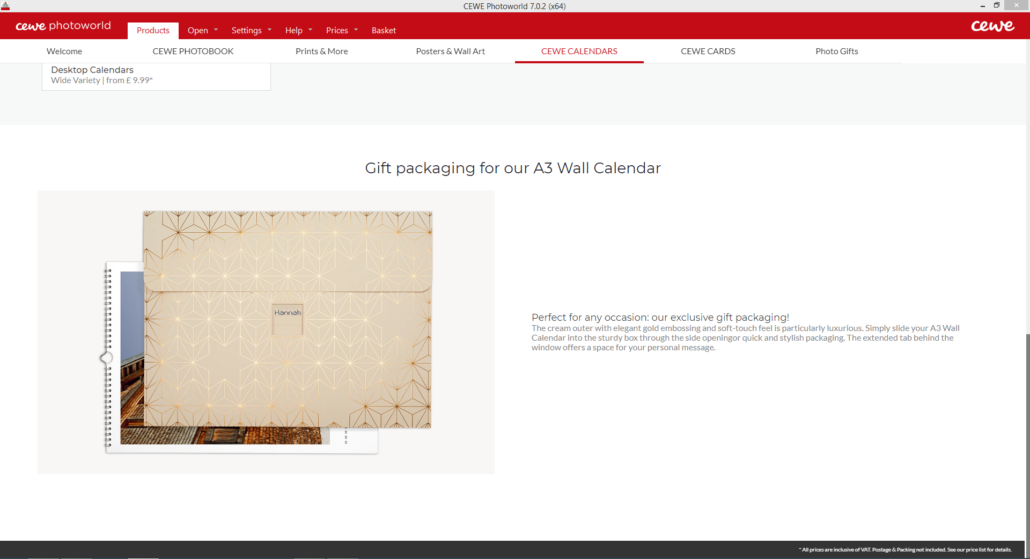 An insider from CEWE also told us that the new software lets you design personalised advent calendars with Kinder surprise eggs inside the little doors. While we were unable to find this particular product option in the software (as of July 2020), we're sure that's due to the fact that 'tis simply not the season yet. We'd be a little surprised to find advent calendars as early as July anywhere – even though preparations seem to start earlier each and every year.
The point is that an advent calendar with photo cover is quite a step up from those run-of-the-mill calendars you get at the store and who wouldn't love to find a Kinder surprise egg behind some of the doors of their calendar?
Poster with plastic frame
Another addition to the CEWE product portfolio is the plastic frame for posters, which can be ordered in black or white. While we were able to easily find these frames online, the software made it a little harder: Instead of finding them among the Posters, the framed posters have their own little subsection in the "Posters & Wall Art" category. You can choose framed posters in all sizes, though, and it's a great option to give a photo poster a more luxurious look.
Gift ideas
Finally, CEWE has also added a variety of new photo gifts. It would be excessive to go into detail and describe every single one, but to give you an overview, here is a sample of our favourite new additions to the CEWE family: You can now create your own photo magnets (great for the fridge and to organise your day) and photo tote bags (your new favourite accessory). One thing CEWE could have done better here – both in the software and on their website – is feature all new products especially so you can see them easily.
Designing
Let's be honest, this is the most important aspect of any photo book software. The ease of use of the design process can make or break a photo company's reputation. CEWE clearly falls into the "make" category.
Templates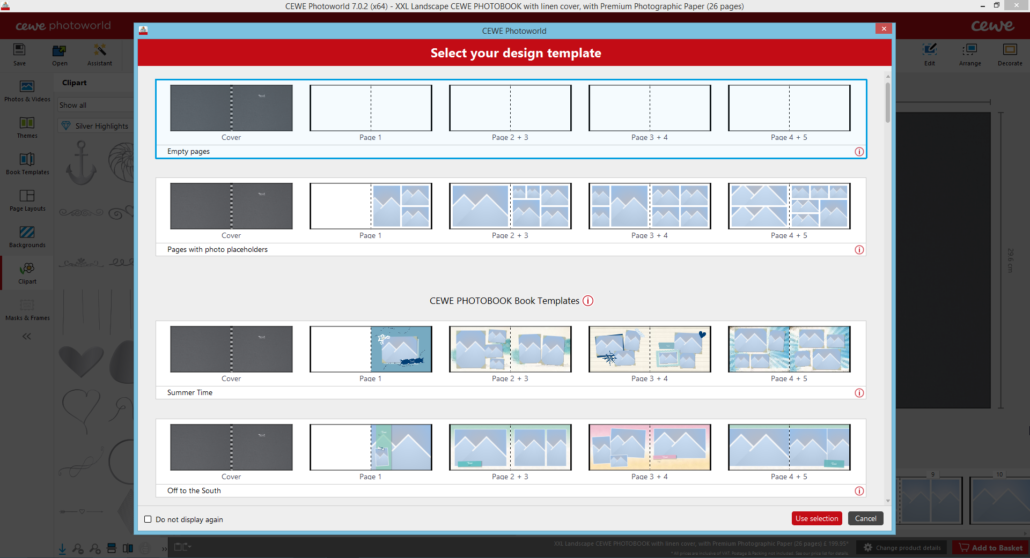 We love templates. They make work so much easier ad give you a head start with your photo book. While CEWE has an admirable number of different templates, we thought the selection process lacked a search functionality. You can scroll through a very large number of different templates and themes – and even download more! – but there's no filter or search bar. To be fair, there should always be a little room for improvement, right?
Ease of use
The editor combines a wide range of editing options with a clear structure so you don't feel overwhelmed. It follows a stringent logic: You start with the cover and work your way through the book. You can choose to work with an assistant to add your photos intelligently to the pages of the book and if there are quality issues, you're of course warned so you can replace them to avoid pixelated prints.
While most features of the editing software have not changed, CEWE has made some improvements to make things more intuitive. For instance, you can now hide the navigation bar, the toolbox, and the thumbnail view of the pages to have a complete in-detail view of the individual pages of the photo book.
Customisable
What we value in particular when it comes to CEWE's photo book software is the degree of individuality you can give your photo book. Even when you're using templates, themes, or the assistant, you can adapt every page and photo to your liking. Whether it's text, cliparts or the layout of a page, you have so much choice to do exactly what you want – if you want.
CEWE Desktop Software Review
The CEWE Desktop Software was and is an excellent tool for all you photo book needs. The improvements they made really give them an edge in a very competitive environment. You have a lot of choice when it comes to photo products. But if you want a harmonious interplay of high quality, easy to use software, and a great product range, CEWE is your ideal partner in crime.
https://www.photobookdeals.co.uk/wp-content/uploads/Screenshot-of-CEWE-Photoworld-Startpage.png
1040
1920
Anna Brinkkoetter
https://www.photobookdeals.co.uk/wp-content/uploads/photobook-deals-logo-long-1030x180.png
Anna Brinkkoetter
2021-07-09 10:49:21
2022-03-28 08:59:25
CEWE Desktop Software Review