CEWE photoworld photobook app review
Here's our CEWE app review for your photo book needs
Known and loved by many, CEWE Photoworld is a high-quality service for many photo products, including photo books.
It also ranks among the top 5 photo book apps in the UK in our recent article, not least because of its popularity.
The quality of CEWE photo books really is what makes them stand out from many other services out there.
As one of the larger photo services in the UK, CEWE doesn't only offer photo books, but also many other photo products.
In this review, we'll take a look at CEWE photoworld app specifically regarding photo books, to give you a better understanding of how it works and what it offers.
CEWE ease of use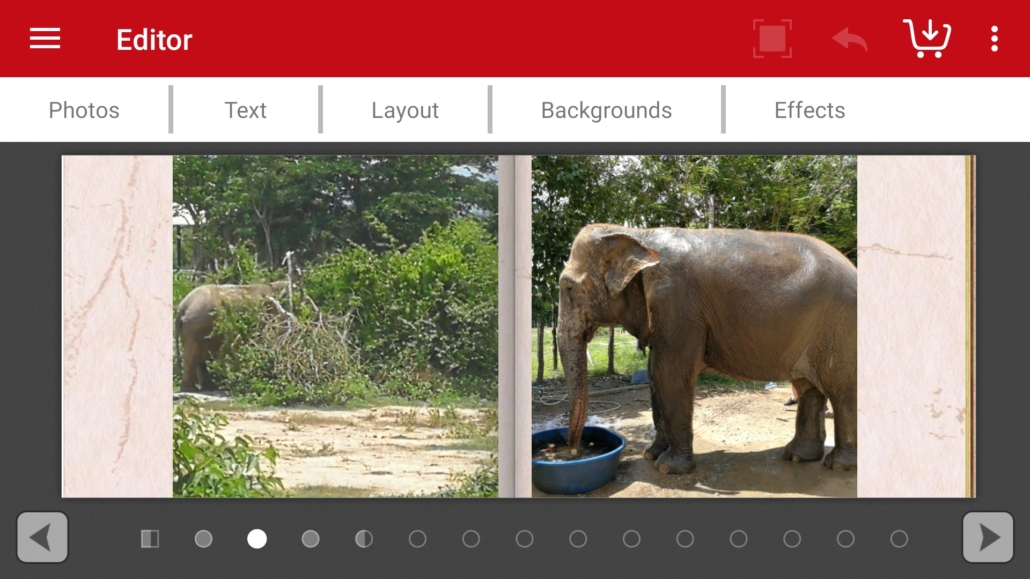 Of course, the app is free to download and quick to install. It guides you through an intuitive step-by-step selection process, from size to paper and cover type.
The fundamental choices made, you are presented with a list of sources for your photos. Beside the storage space on your smartphone, you can connect to cloud storage spaces such as Dropbox or Google Photos and even a network share.
Other than some photo book apps, CEWE doesn't connect to social media platforms, but you are able to use your Facebook or Instagram pictures by downloading them onto your device – if they aren't there already.
The choice you make here is just a first selection. You can always go back and pick some more photos to fill your book.
The next step takes you to choosing a title for your creation, followed by a range of designs. There's something for every taste and occasion, and also a plain white or black design.
You're free to adapt backgrounds to individual pages or the whole book later on to create your very own design.
Editing with CEWE Photoworld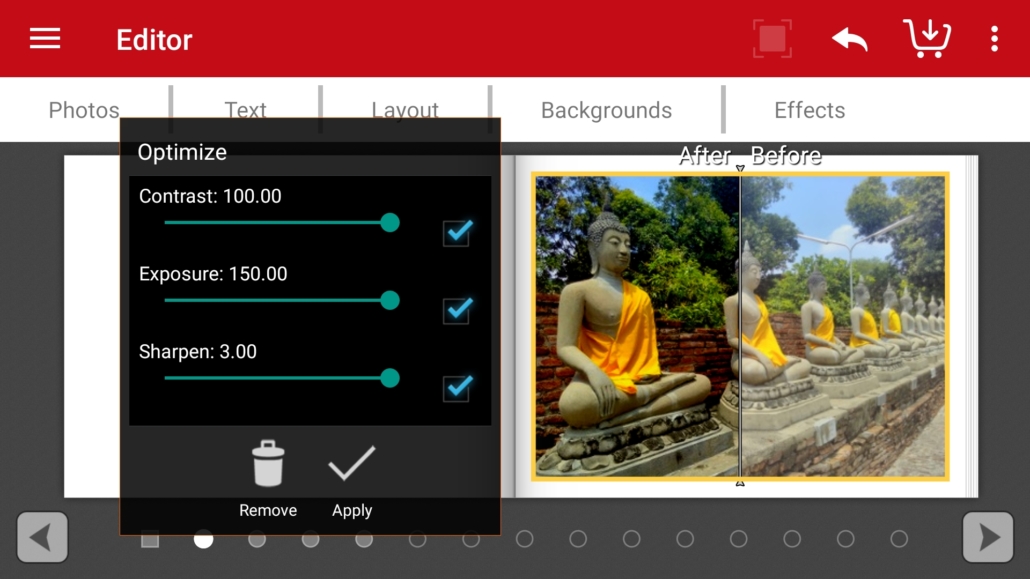 For our CEWE photoworld app review, we've also looked at how it does in terms of improving your photos.
In terms of decorating and putting together the photo book, CEWE has a really impressive range of functions to offer.
You are able to create collages with many photos on one page and you can always freely add text in various fonts, formats, and sizes.
The range of layouts is quite extensive, although you may have to remove a preset filter before you're able to see them.
If by now your creative senses aren't tingling, they will certainly do so when you see the effects CEWE offers.
You can apply optimisations and change the most important values such as brightness, gamma, contrast and saturation here.
With a little patience and trial and error, you can compose a true work of art or simply make the very most of your favourite photos.
CEWE ordering & delivery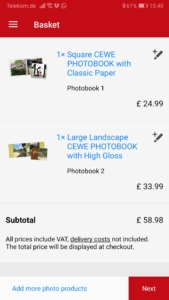 Any low resolution images, empty placeholders and the like will be listed in the "Project Check" that shows up when you proceed to place your photo book in the cart.
Clicking on the error message directs you to a page edit link so you can quickly go and fix the issue in question.
You can also ignore errors and move on to your basket, where you have the option to add more photo products as well.
You will see a subtotal before you're asked to log in or register. It's a quick and easy enough process, although you can't use your stored addresses so you will have to type everything in manually.
As is often the case, you may want to send the photo book to someone else as a gift, regardless of the billing address.
This is no problem at all and the app makes this process just as easy as navigating through the creation of your photo book.
Standard delivery is the only option available and at £4.25 about average in price.
Also read: BEST PHOTO BOOK COMPANY AWARDS 
The result is a high-quality photo book and customers are very happy with what CEWE offers.
While generally, the app's performance is quite good, it is important to make deliberate choices in the beginning, as you can't go back to change individual details without losing the progress you made before.
Even small changes that would not affect your design such as the paper quality are not possible at a later point in time. Choose wisely and you will be happy with the result.
Feedback & conclusion
With a 4.4 star rating (as of August '19), CEWE deserves its place in the top 5 photo book apps in the UK.
While the price may not be as competitive as some of the other options we've presented, the quality of the product does give it an edge that makes CEWE worth a try.
If you're unsure, you can test the app and the photo book quality with one of the small options, which happen to be excellent gift ideas for friends and family alike.
But most of all: Have fun creating a beautiful book with your unique photos! So there you have it: Our CEWE photoworld app review. You can download it for Android or iOS here:
Download CEWE photoworld for Android           Download CEWE photoworld for iOS
https://www.photobookdeals.co.uk/wp-content/uploads/CEWE-photoworld-logo.jpg
298
1024
Anna Brinkkoetter
https://www.photobookdeals.co.uk/wp-content/uploads/photobook-deals-logo-long-1030x180.png
Anna Brinkkoetter
2021-09-15 08:00:50
2022-03-28 08:59:16
CEWE photoworld photobook app review