FreePrints Photobooks app review
A free photo book every month: Freeprints photo books review
Too good to be true?
Typically, when you're offered something "for free" nowadays, the mind speed dials suspicion. After all, it's all about the money, right?
Is free prints really free?
Of course, these photo books are not technically free as you will have to pay packaging and shipping and you're limited to one free photo book per month (which is fair enough, right?).
After all, they also have to make money somehow, right? It is a very good service, though, that has a lot of positive things to offer.
In this Free Prints UK app review, we'd like to give you some insight into the features and usability of the app that made our five best photo book apps in the UK article.
Freeprints Usability
Of course, free prints photo books are free to download and installed within seconds (provided you have an acceptable internet connection).
You can freely choose to let the app tap into your media or connect to various social media or online storage accounts.
You can always go back and add another account to pick your photos from.
The first thing you're asked to do is choose 20 pictures – the minimum for creating a photo book.
You can choose more right away or expand your selection afterwards. All the icons – such as colouring or adding and deleting pages, are explained at the very beginning.
This makes it really easy to find your way around the app and put your photo book together.
Design & editing
For our FreePrints Photobooks app review, we've taken a closer look at the whole process of creating a personalised photo book: After you've picked your photos, they are automatically placed on the pages either chronologically or in the order you chose them.
Of course, sometimes you will want to have more than one photo per page. It's really easy to create collages and place photos together on a page: Just tap a page long enough and move it onto another page.
You can do this multiple times, but not infinitely. Up to six photos fit onto a page and every time you add one, the layout changes, so you can get some really nice collages from it.
You can also combine collages (for example by dragging a page with two photos onto a page with four photos) as long as the result isn't more than six photos on one page.
Dragging also allows you to rearrange the order of the pages.
Themes
In the spirit of good taste and simplicity, FreePrint Photobooks lets you choose a theme, pattern, or colour to beautify the pages of your photo book with backgrounds.
This is where individuality finds its limits. You can apply a theme or colour to the whole book but not choose it for each page individually.
There are some really nice backgrounds to choose from, but the fact that you can't remove individual page designs is a little limiting.
Page design
You can resize and adapt each photo by tapping on it. You do get a little warning triangle when the resolution of a photo is not good enough before or after resizing.
Of course, you can also add text. Not to each photo in a collage but to the page overall.
There is no spellcheck available, so make sure to double-check before checking out!
Editing
When you're adapting one image, you have some basic editing options (turn, mirror and B/W filter).
For more creative filters, you're best off doing so with a different app. Luckily, your photo book is saved automatically, so you can always go back to your photos and apply all those wonderful filters without losing your progress in the app. A nice feature is "shapes".
This allows you to have your photo cropped into a heart, for example. It's only available for whole-page photos, though.
How does free prints make money?
FreePrints.co.uk make money on an extra ordered photo book pages if exceeds 20 pages as well on shipping expenses.
Checkout & delivery
When it comes to ordering, the app is pretty straight-forward. Create an account or link the app with Facebook or Google.
At this point, you have lots of options in terms of upgrades. Options such as additional pages, a matte finish, lay-flat binding, glossy pages, or a gift box cost extra (no surprise there).
Whether you choose extra options or not, the only thing you pay for is delivery. The delivery takes at least a week, which is one of the weaker points for FreePrints Photobooks.
This is where it shows that while you're technically only paying for delivery, this is where they save some money. In fairness, it's better to save money here than in the printing quality, right?
For £5,99 delivery charge and overall price, it's a good offer. You can choose first-class delivery, but there's not a whole lot of time saved.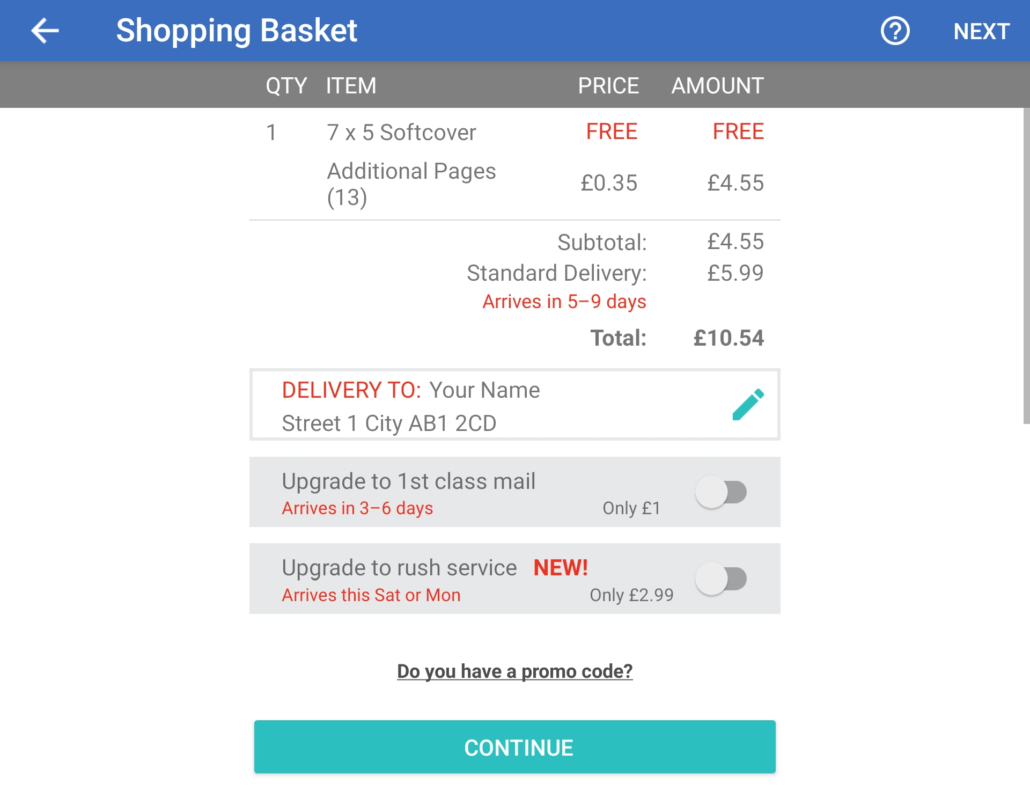 Feedback & conclusion
The app is very easy to use and offers a very fair price for a good quality photo book.
Once a month, you can order a 7×5 photo book for £5,99 delivery charge, provided you stick to the 20 pages limit and don't add any extra options such as lay-flat pages.
The most important aspect for most customers is the quality and this really is where this app does not disappoint. Sure, there are additional charges and free is only ever so rarely really free.
The result is very nice and getting there is very easy. With an impressive rating of 4.9 and over 1 million downloads (as of August 2019), FreePrints Photobooks really is one of the most popular photo book apps in the UK. So there you have it.
We hope you enjoyed our FreePrints Photobooks app review and have all the inspiration you need to get started on your photo book!
Download FreePrints Photobooks for Android           Download FreePrints Photobooks for iOS
https://www.photobookdeals.co.uk/wp-content/uploads/FreePrints-Photobooks-App-Logo.jpg
630
1200
Anna Brinkkoetter
https://www.photobookdeals.co.uk/wp-content/uploads/photobook-deals-logo-long-1030x180.png
Anna Brinkkoetter
2021-09-23 08:00:15
2022-03-28 08:59:13
FreePrints Photobooks app review